RE/MAX Kerrville
Kitty Cowden Is Your Hill Country Native Real Estate Professional!
Owner and Broker RE/MAX Kerrville
Specializing In Estate, Residential and Ranch Properties in the Texas Hill Country
Licensed Since 1978
Actively Involved In The Real Estate and Ranching Industries and enjoy flying with my husband in our Cessna 182 airplane.
Multi-Million Dollar Producer RE/MAX 100% Club RE/MAX Platinum RE/MAX Hall of Fame
My mother's family, the Reals, came here from Germany in the mid 1860's and settled in the Turtle Creek area of Kerr County. According to historical records there were still native Indians in the area who were not too thrilled about the influx of Europeans. The Real family stayed and prospered mostly in ranching in the early days. They managed thousands of acres of land raising fine wool sheep, goats and cattle. When there was enough rain dry land farming of hay, corn and cotton was also profitable. Ancestors of the Reals in Kerr Co.include doctors, lawyers, business owners, musicians, many homemakers, a county judge and a state senator, Julius Real after whom Real County was named.
I was born here and grew up on one of the family ranches in west Kerr County. I love this area and enjoy sharing my knowledge of its history and beauty with those of you who may want to join us here! For more information about Kerr County go to co.kerr.tx.us. For more information about Kerr area properties call me! 830-459-0045
Buyers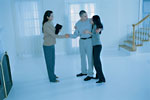 Whether you're looking for your first home, your dream home or an investment property, I'm committed to providing you with the highest quality buyer service. When making the type of investment that buying a home requires, you deserve to have all the latest market information and the very best advice, both of which I can provide you with. Read more.